Melanie DeBay Recognized as Community Educator of Excellence
March 5, 2021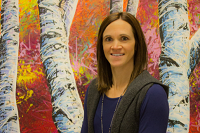 Melanie DeBay, Itasca Area Schools Collaborative Community Education Director, has been chosen as the Region 8 Community Educator of Excellence by the Minnesota Community Education Association (MCEA). She received her award at the MCEA National Winter Conference which took place virtually on February 17-18, 2021.
MCEA recognizes, thanks and celebrates the outstanding contributions made by practitioners and supporters of community education from across Minnesota. Nominees represent the best of the best: persons committed to working together, creating opportunities, persisting through challenges and partnering with others.
Melanie, Itasca's Community Education Director for the past 10 years, has been dedicated to serving the Itasca communities. Serving 4 Itasca school districts, collaborating with 4 Community Ed Advisory boards, 4 Superintendents, 16 school Principals, and numerous community partners across the county. She serves on numerous committees across the community including the Invest Early Leadership team, the Itasca Networks for Youth Committee, and the Board of Directors for the Itasca Family YMCA.
Krystal Berg, Proctor-Hermantown Community Ed Director says "Melanie is always my go-to gal when I have questions, concerns, or need to have another perspective on a possible idea." Melanie has shown to be a true team player, excels at creating partnerships and grant opportunities, and is recognized as a leader locally and across the state. "We all agree that Melanie is worthy of this award! She has been an amazing support during the pandemic and has inspired us to think outside the box to find ways to connect with our communities, but has also encouraged us to take care of ourselves and our families during this difficult time" states community education secretary Holly Henriksen.
For more information about the great Community Education opportunities in the Itasca Area visit www.getlearning.org, call 218-327-5730, text EDUCATE to 22828 to sign up for our monthly email notifications, and connect with Itasca Area Community Education on Facebook and Instagram.