GRHS Receives Award for Closing Learning Gaps
May 17, 2021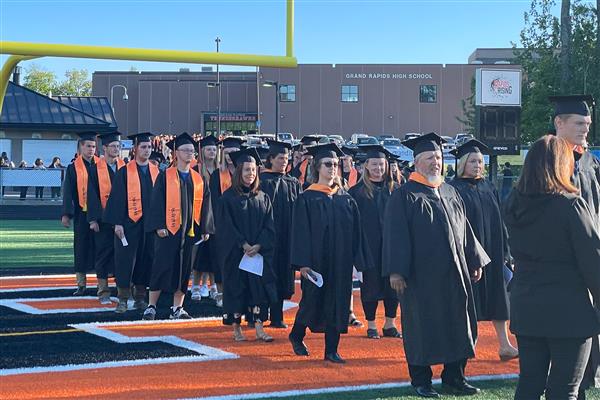 After enduring five different learning model transitions, principals and teachers at Grand Rapids High School (GRHS) recognized the need to address growing learning gaps in their students' high school experience. Like many schools across the state, the struggles for students and staff during last year's distance learning during lockdown were compounded by the need to change from in-person learning, to hybrid, to full-distance and back again.
"Each learning model presented new challenges, while at the same time amplifying existing struggles for students," said GRHS Principal Matt Dass. "We recognized the need to respond accordingly for the benefit of our students and to preserve on-time graduations."
Early in the school year, GRHS staff and administration recognized that students would need additional supports to find success and close learning gaps. Teachers and administrators worked hard to identify students who were in danger of failing and created opportunities for students to recover semester credits in their classes. Significant gains were made in English and Math as well as core content and elective classes.
"I am so proud of the implementation of evidence-based practices by our high school teachers and principals," said Sue Akre, Director of Teaching and Learning. "They have tried to minimize the impact of the pandemic on our students and have also created a model that can be replicated in the future to help all students achieve our state's rigorous standards."
The hard work by both students and staff has paid off. In addition to minimizing failed coursework by over 66%, the school has been recognized by the Minnesota Association of Secondary School Principals (MASSP). MASSP has presented GRHS with a Gold Star of Innovation Award. The Star of Innovation Award is designed to recognize MASSP member schools statewide for the development and support of an exemplary and innovative education program in their school. Awards are given at gold, silver, and bronze levels.
"Our staff and administration can proudly look our community members in the eye and confidently state, in the middle of a global pandemic, that every student is being served to the best of our ability," said Dass.