ISD 318 Recognizes the Importance of Guest Staff
May 6, 2021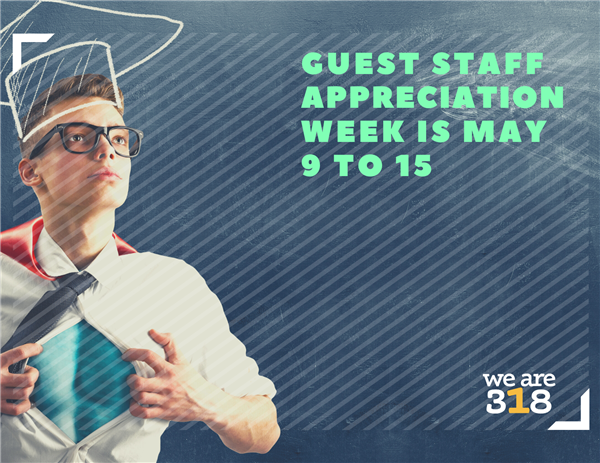 COVID-19 has changed so many aspects of the community's life. In some cases it has made people so appreciative of the positives in their life. It's no different for organizations or for our schools. School districts have been facing a sub shortage for years and the pandemic made that shortage even worse as many guest staff members are older members of our community and as staff were required to be out for longer periods of time. At ISD 318, staff and students alike are grateful for the guest staff members who have provided continuity for learning this year.
"In a regular year our guest staff are important, in the current year with COVID-19 implications, they have been vital. Without our guest staff stepping up and being selfless, our students would not have had in-person instruction," said Kasie VanQuekelberg, ISD 318 Human Resources Director.
Guest staff ensure that students have a safe and productive school experience, filling in as teachers, food service staff, ESPs, secretaries, and more. With the shortage this year, they were more in demand than ever. On any given day, you could find a principal stepping in as a teacher or administrative staff lending a hand as secretaries.
"We are grateful for the work of our guest staff every day and appreciate their commitment to keeping children in school. Our community has stepped up huge this year; we have seen new guest staff enter our buildings for no other reason than they wanted our students to stay in school, they are such an inspiration!" said VanQuekelberg.
While 318 staff recognize they need guest staff every day of the school year, it's especially important to honor their work during Substitute Appreciation Week, May 10 to 14. Substitute appreciation Week follows Teacher Appreciation Week every year and is an opportunity for schools and the community to recognize the compassion, creativity, and versatility of these important members of our school community.
"While guest staff have historically and will continue to be in shortage, I hope each of you will consider joining our team," said VanQuekelberg. Information on how to become a guest staff member at ISD 318, is available on the school district website at www.isd318.org/gueststaff or contact the Human Resources Department at 218-327-5722.