School Libraries Play Vital Role for Students
April 27, 2021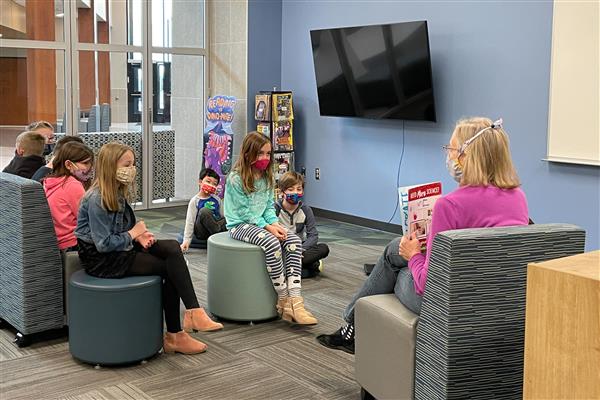 Just as technology has changed so much in our world, so too has it improved school libraries. Gone are the hushed tones and whispers though the dog-eared and well-loved books are still a feature.
April is National School Library Month, however, most schools now refer to school libraries as Media Centers. At ISD 318, the media centers are filled with books, computers, and other learning equipment. Students do more than checkout books or research new ideas. Media centers are places where students are taught how to research and evaluate materials. The media centers are an extension of their classroom and sometimes a place of escape.
"The media center provides that atmosphere that supports, embraces, and fosters the love and enjoyment of reading. The media center creates a quiet outlet for students to become lost in a great book whether that book is read to them by an adult in the building, they listen to an audio book, or they read it themselves," said West Rapids Elementary Principal Ryan DeBay. "The library also serves as an area for students to explore, create, and to follow curiosities or interests."
Elementary staff work hard to foster an early love of literacy and libraries with young learners, ensuring students see the media center as a valued resource. As they move through their education, the focus turns to research. "At RJEMS, our Media Center is a critical source for research and attaining resources for classroom assignments as well as recreational reading," explained RJEMS Principal Dan Adams. All of these resources are available to students in addition to the classroom libraries that allow kids to check out books to read at home.
In a pandemic year, the media centers also provided an important space for students and teachers to spread out, ensure distance, and sometimes connect with virtual classes.
Previously at ISD 318, media centers had been staffed by an educational support professional (ESP) who led reading and library activities during teacher prep time. With the addition of art as a class at the elementary levels, prep time coverage was no longer necessary, although media materials continued to be accessed. As a part of the ISD 318 budget reductions, many of the media centers will no longer be staffed by ESPs. The change will affect schools differently, but all sites are focused on reducing the impact on students. "At RJEMS, classes will still have access to the Media Center as a group. It will now function as a teacher-led resource room where teachers will bring their classes there as they research assignments or information," said Adams.
Elementary Media Centers will no longer be staffed by ESPs either. "The library will continue to be available to students throughout the day. Although staffing will look different, kids will still be provided access to good books and access to a quiet place to read and build a love of literacy," said DeBay.
Bigfork School will also transform its media center to a resource room. The exception will be the Grand Rapids High School Library. The GRHS Library partners with the Arrowhead Library System and provides regional library access and books within its media center.