Bigfork Robotics Team Takes First Place at NMRC
April 23, 2021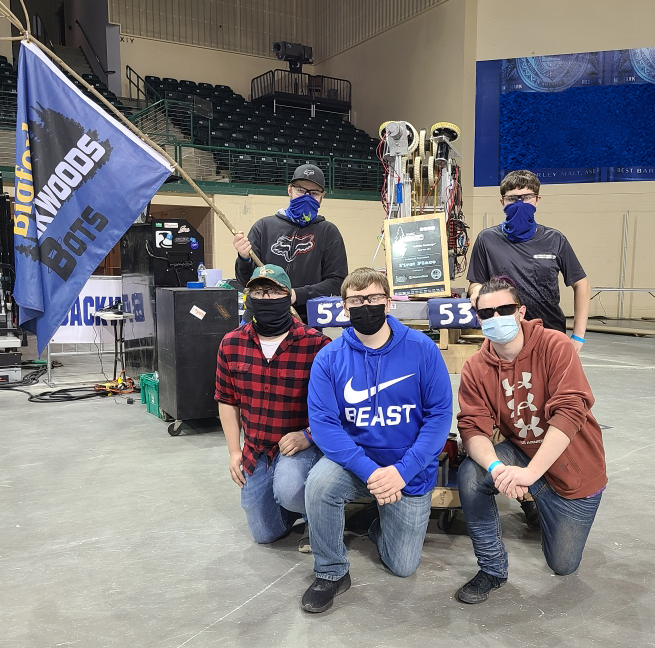 Bigfork High School may be small, but its robotics team is mighty. On Saturday, April 17, the team traveled to Bemidji to compete in the Northern Minnesota Robotics Conference (NMRC). There, they upset the number one seed to take home the first place trophy.
"The team and their alliance members battled hard and overcame many obstacles to pull off this win. It is well deserved," said Erin Pocquette one of the Robotics Team Advisors and Bigfork High School Math Teacher.
The team pulled off the win in a tie-breaker round despite the usual robot driver out of the competition. The team also faced an uphill battle when the robot needed a last minute adjustment and the team programmer was out of state on vacation. "It was quite an accomplishment considering the absence of two key team members, but others stepped up and met the challenge," said Bigfork Principal Scott Patrow.
To compete in the program, students must construct and program a robot of their own design to complete a specific task. For this year, the competition required the robots to place balls in an elevated goal while traversing obstacles. In the final portion of the match, they needed to be able to extend an arm to reach an elevated bar.
In robotics matches, teams compete in alliances that are made up of three teams each. For the NMRC Conference, the first part of the match was autonomous, and the robot drove itself. Goals were worth the most points during this time. In the last 30 seconds of the match, robots attempted to climb onto a bar at the center of the field. Each robot that completed the task received 25 points for the alliance, with extra points available if the robots could level the bar.
The Bigfork Backwoods Bots competed against 24 other teams to take home the win. The Backwoods Bots are comprised of Michael Howell-Lowry, Dimitri Ivanovic, Troy Myers, Ashton Powell, Troy Myers, Brendon Runestrand, Joseph Schultz, and Scott Storlie with advisors Stu Ostendorf and Erin Pocquette.