ISD 318 Celebrates Assistant Principal Week
March 30, 2021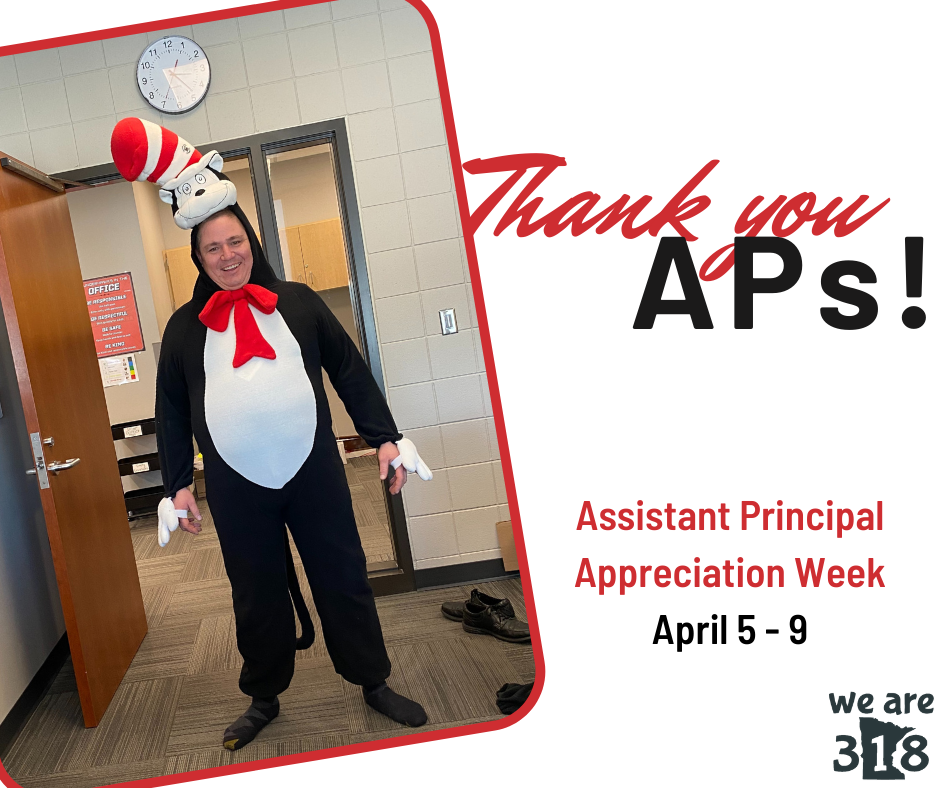 National Assistant Principals Week is April 5 through 9. ISD 318 is joining schools across the nation in honoring the enormous contributions of our APs. Our Assistant Principals play an important role in connecting with students and families, as well as ensuring district goals and initiatives are met.
"Support of our students and staff this year over any other year is extremely vital and needs to be immediate. Our Assistant Principals are listeners, problem-solvers, confidants, and sometimes even comedians," said East Rapids Elementary Principal Ryan DeBay. "At East, our Assistant Principal Mr. Goodwin begins each day with joy in his announcements and is available throughout the day to support our teachers and kids with whatever they need. The job of a principal is to empower people and make them feel that there is an army of support behind them because the jobs they do are the most important jobs in the world. Our AP does just that."
At ISD 318, there are assistant principals at Grand Rapids High School, RJE Middle School, and at East and West Rapids Elementary Schools. Each of these schools has a large number of students ranging from nearly 600 to over 1,200, plus all of the staff necessary to serve and educate those students.
"The job of an elementary assistant principal is rewarding, demanding, encouraging, tiring, and worthwhile all at the same time," said Clayton Lindner, West Elementary Assistant Principal. "Our students, families, and staff are all amazing to work with."
As school leaders have been asked to do more and more for children both in instruction and in social-emotional support, it is necessary to create collaborative leadership teams that connect with students and families and help them succeed.
"Angie Berg, our assistant principal, has a huge role when it comes to student programming and student interactions", said Dan Adams, RJEMS Principal. "She works closely with students in everything from implementing positive behavior interventions and supports (PBIS) to supporting individualized education programs (IEPs). Our school wouldn't run smoothly without her."
ISD 318 Assistant Principals include Bruce Goodwin, East Rapids Elementary; Clayton Lindner, West Rapids Elementary; Angela Berg, RJEMS; Andy Forbort, GRHS; and Darrin Hofstad, GRHS. Join ISD 318 in thanking them for their contributions to student success in a difficult year.