Installation of New Scoreboard to Begin at Noble Hall Field
May 10, 2021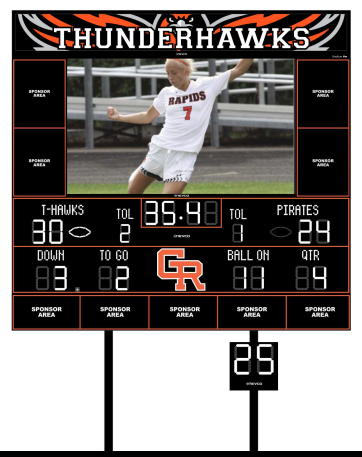 Visitors to GRHS will notice increased activity on and around Noble Hall Field in the coming weeks. Thanks to generous support from the community, a new electronic scoreboard will be installed on the northeast side of the field, just in time for graduation.
The scoreboard will be a 12 by 19 foot Nevco LED screen with full color video display and an embedded stereo system. "The new scoreboard puts the finishing touch on our new turf field. We are grateful to the generous donors who helped us reach this point," said GRHS Assistant Principal Darrin Hofstad.
"Students from 13 school-sponsored sports and activities will benefit from the scoreboard, not to mention our gym classes, special events like graduation and potentially even community-sponsored gatherings." said Grand Rapids Activities Director Anne Campbell.
Last summer, the Noble Hall Field Committee announced that they had surpassed their fundraising goal for the field and requested the ability to explore additional amenities like an updated scoreboard. The new Nevco video display is fully funded by Grand Rapids community fundraising and sponsorships with only a few sponsorship spots remaining.
"We are grateful to the community for being creative in finding ways to enhance opportunities for our kids," said Superintendent Matt Grose. "The culmination of this project means so much to our students, teachers, and staff, that community members support and care about them."
The scoreboard was selected by a group of stakeholders consisting of coaches, principals, the Activities Director, and other school staff. "We did a lot of research with schools using the Nevco scoreboard and received glowing reviews about both the product and the customer service," said Campbell. "It is so great to be able to add this benefit for our students and student-athletes," said Campbell.
Sitting on top of the video board is a 28'W custom Thunderhawks scrim with the Nevco Stadium Pro 1000 Sound System™ discretely behind. Alongside the video display is custom revenue generating signs for sponsors. Below the video board is a Nevco model 3685 scoreboard with orange striping and white intelligent captions. With the new fan engagement experience and revenue generating opportunities, Grand Rapids will have an exciting new atmosphere for Thunderhawks fans.
The project is expected to be completed in time for the 2021 GRHS Graduation Ceremony on May 28. You can find live installation and first game photos on the district's social media or by searching Nevco on Facebook and Twitter. For more information about Nevco scoreboards, visit nevco.com.