318 Celebrates School Board Recognition Week
February 15, 2021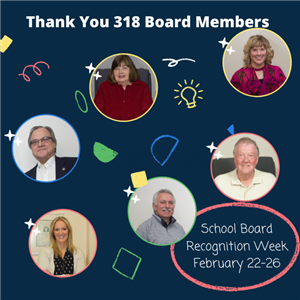 School Board Recognition Week is February 22-26 and ISD 318 is joining all public school districts across the state to celebrate School Board Recognition Week, honoring local Board Members for their commitment.
"It takes strong schools to build a strong community, and these men and women devote countless hours to making sure our schools are helping every child learn at a higher level," said Matt Grose, ISD 318 Superintendent. "We are privileged to have leaders spending many hours studying education issues and regulations in order to provide the kind of accountability our community expects."
The week is a time to build awareness and understanding of the vital function an elected board of education plays in our community. "School board members give our students and community a voice in education decision making. Even though we make a special effort to show our appreciation in February, their contribution is a year-round commitment," said Grose.
The commemorative week is designed to recognize the contributions made by Minnesota's school board members, including the 318 School Board, who are charged with governing public education under state law.
Minnesota School Board members are chosen by their communities through election or appointment to manage local schools. At ISD 318, they oversee a budget of over $50 million which funds education programs for nearly 4,000 students in eight school sites. Their personnel decisions affect more than 650 employees in our community.
The members serving ISD 318 are as follows: Dr. Malissa Bahr, Board Chair; Sue Zeige, Clerk; Ben Hawkins, Treasurer; David Marty, Director; Pat Medure, Director; and Mindy Nuhring, Director. For more information about the ISD 318 School Board, visit the district website at isd318.org.