Family Feedback ThoughtExchange, March 2021

This year's Family Feedback ThoughtExchange was held at the end of March and open to all families in the district. Families were invited to participate via phone, email, and social media posts. There were 311 unique participants who reviewed and ranked thoughts, however only 98 people submitted a thought. To put this in perspective, in 2019-2020, 292 parents or guardians responded to our traditional survey and in 2019-2018 only 128.

Families were asked an open-ended question, "As we continuously look for ways to improve our programs and services, we want to hear from our parents/families on specific strategies to help us. What's going well for you as an ISD 318 parent/family and what could we do better?" In addition to the open-ended question, families were also asked four questions that were included on previous surveys to help gauge overall satisfaction. Family satisfaction with the district remains high and increased slightly over the 2019-2020 responses.

While it is difficult to compare trends over time by introducing a new feedback instrument, we can compare overall parent satisfaction. Parent satisfaction with the district remains high and increased slightly over the 2019-2020 responses.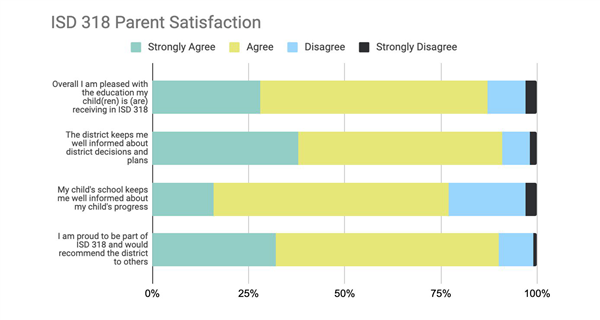 Highly ranked thoughts from the exchange included:
• Gratitude for our leaders and teachers as they navigated the unknowns of the pandemic;
• Appreciation for electives at the secondary level and the specials at the elementaries;
• And appreciation for communication at the district level and for school-to-home communications.

There were also requests for changes highly ranked in the exchange:
• Smaller class sizes at the middle school;
• Increased classroom-to-home communications;
• Requests for spring conferences;
• And continued high expectations for students with regards to rigor and course offerings.

All 98 of the responses have been categorized and provided to school buildings and departments. The information families provided will be used at the building and department levels to aid site-teams and leadership groups in setting goals. A full copy of the report is available here.
Common Words and Phrases by Importance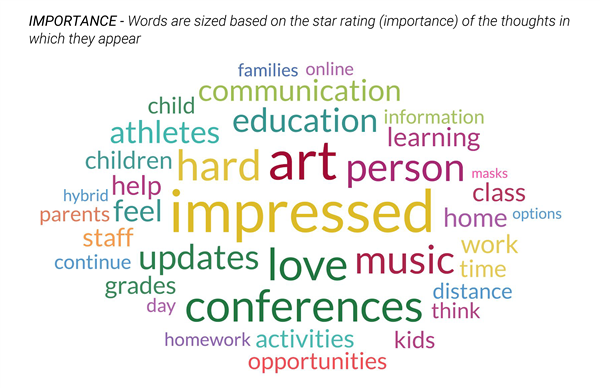 Common Words and Phrases by Frequency