Return to Learn ThoughtExchange, August 2020

Thank you to everyone who participated in our Return to Learn ThoughtExchange. Over 970 community members responded with over 37,000 rankings and impressions. If you've ever been in a strategic planning meeting, that means over 37,000 sticky dots of feedback from you, your friends, and your neighbors.

You shared the following themes of ideas. (NOTE: themes are presented here in alphabetical order and not in order of importance.)

Cleaning / Sanitizing — This category includes thoughts in regard to how ISD 318 will clean and sanitize classrooms, buses, equipment, common surfaces and other areas of its facilities.
Distance Learning — This theme includes thoughts in regard to distance learning and the protocols involved in it. It also includes thoughts on how this could be accomplished. A significant number of thoughts under this theme support distance learning over in-school or hybrid learning. Also, thoughts and questions in regard to the availability of technology and broadband for those families that cannot afford it can be found here.
Health and Safety — These are thoughts that speak directly to COVID-19, social distancing, the desire to keep schools closed or open for in-school learning because of it, distance learning and the school district's reaction to COVID-19. This theme also contains questions in regard to what will happen should a student or staff member be diagnosed with COVID-19.
Masks and PPE — This section includes thoughts concerning wearing masks or not wearing masks, what Personal Protective Equipment will be required, and who will provide and pay for it. This section also contains thoughts that question how ISD 318 will address those students or families who refuse to comply with school and district guidelines.
Protocols and Communication — These thoughts address what protocols will be in place should a student or staff member be diagnosed with COVID-19, or should a school become a COVID hotspot. Additionally, there are thoughts that ask what protocols are in place to keep sick students and staff at home. Finally, there are thoughts shared that address how all those protocols and issues will be communicated to ISD 318 families and other stakeholders.
Scheduling — In this section participants shared thoughts on a variety of scheduling options, as well as plans for pre-school and other early learning
opportunities.
Special Education — Thoughts in this section are concerned with special education students and how ISD 318 will meet their needs.
Staff Concerns — In this section staff shared thoughts in regard to workload, sick leave policies, substitute teachers, and mental health.

In the weeks since the ThoughtExchange ended, we have been working to answer many of these questions. We will continue to share communications and information with our stakeholders, as well as refine our plans and communications to better meet your responses.
Common Words and Phrases from Your Responses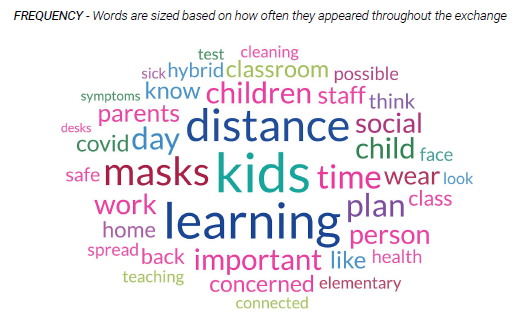 Common Words and Phrases from Your Responses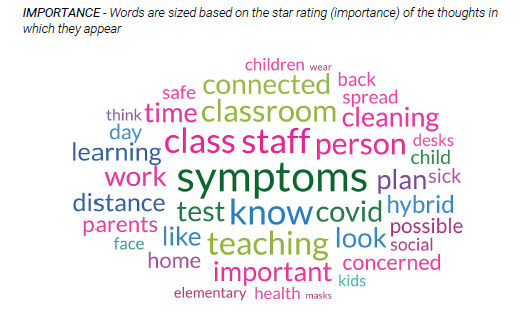 As we have been creating our Return to Learn Plan, we engaged people from all across the district to think about how we can mitigate risks in the most reasonable ways possible. Now we want to hear from you. If you have questions or comments about our Return to Learn plan, take a moment to share them in our ThoughtExchange.

ThoughtExchange is more than a survey, it will offer you a chance to give us feedback about our Return to Learn plan, to raise questions, and at the same time see what your friends and neighbors are saying about the plan. There are lots of ways to participate

Click here

to participate via a desktop computer browser

Click here

to participate with your mobile device

Download the app from the Apple Store and use 835-093-668 to join

Or, text 728-55 with the following code 835-093-668 for a link to join.

ThoughtExchange operates like a three-step process in the span of a condensed period (in this case, one week):

SHARE - First, share a thought or idea in answer to the open-ended questions posed

STAR - Review the thoughts of others and star thoughts you like

DISCOVER - See the results of the exchange, including which thoughts were rated highest by your peers and see themes that emerged.